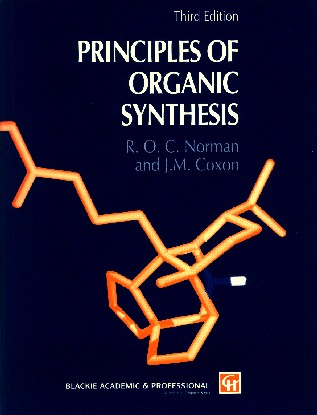 Contents:
PREFACE
PART 1
INTRODUCTION TO PART 1 ... 3
CHAPTER 1- CHEMICLA THERMODYNAMICS ... 5
CHAPTER 2- MOLECULAR STRUCTURE ... 20
CHAPTER 3- CHEMICAL KINETICS ... 52
CHAPTER 4- MECANISM ... 71
CHAPTER 5- STEREOCHEMISTY ... 134
PART 2
INTRODUCTION TO PART 2 ... 179
CAHPTER 6- FORMATION OF CARBON-CARBON BONDS: BASE-CATALYSED REACTIONS ... 184
CHAPTER 7- FORMATION OF ALIPHATIC CARBON-CARBON BONDS: ACID-CATALYZED REACTIONS ... 206
CHAPTER 8- FORMATION OF ALIPHATIC CARBON-CARBON BONDS: ACID CATALYZED REACTIONS ... 251
CHAPTER 9- PERICYCLIC REACTIONS ... 270
CHAPTER 10- FORMATION OF ALIPHATIC CARBON-NITROGEN BONDS ... 299
CHAPTER 11- ELECTROPHILIC AROMATIC SUBSTITUTION ... 344
CHAPTER 12- NUCLEOPHILIC AROMATIC SUBSTITUTION ... 396
CHAPTER 13- AROMATIC DIAZONIUM SALT ... 409
CHAPTER 14- MOLECULAR REARRAGEMENTS ... 429
CHAPTER 15- REAGENTS CONTANIG PHOSPHORUS, SULFUR, SILICON OR BORON ... 458
CHAPTER 16- PHOTOQUEMICAL REACTIONS ... 594
CHAPTER 17- FREE-RADICAL REACTIONS ... 523
CHAPTER 18- ORGANOTRANSITION METAL REAGENTS ... 564
CHAPTER 19- OXIDATION ... 587
CHAPTER 20- REDUCTION ... 629
CHAPTER 21- THE SYNTHESIS OF FIVE- AND SIX- MEMBERED HETEROCYCLIC COMPOUNDS ... 676
CHAPTER 22- THE SYNTHESIS OF SOME NATURALLY OCURRING COMPOUNDS ... 728
INDEX
Principles of Organic Synthesis, Third edition. 1993 - 809 pp
R. O. C. Norman and J. M. Coxon
The purpose of this book is to show how mechanistic principles can be applied both to acquiring a knowledge of organic synthesis processes and to planning the construction of organic compounds. It is designed for those who require a board understanding of the subject.
The book is in two parts. In Part 1, reaction mechanism is set in its wider context of the basic principles and concepts that underlie chemical reactions: chemical thermodynamics, structural theory, theories of reaction kinetics, mechanism itself, and stereochemistry.
In Part 2, these principles and concepts are applied to the formation of particular types of bonds, groupings, and compounds: for example, how small molecules can be built on to give larger ones by construction of new carbon-carbon bonds, or how one functional group can be transformed into another. The final chapter in Part 2 describes the planning and detailed execution of the multi-step syntheses of several complex naturally occurring compounds.
There have been numerous important developments since the second edition of this book was published 15 years ago, and every chapter has been brought up to date to include them. Among the more notable are: the stereochemical control of reactions, reflecting the need to synthesize efficiently compounds with several asymmetric centers: the use of organotransition-metal reagents, leading to a new chapter; the exploitation of lithium diisopropylamide(LDA) as a base in the formation of new C-C bonds; free-radical reactions for the synthesis of C-C bonds; uses of organosilicon compounds; and subtle new protective and condensing reagents in polypeptides synthesis.
The text is extensively cross-referenced and a detailed index is included.
R$ 62,10