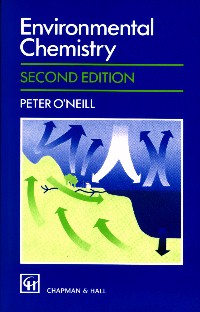 Contents:
PART ONE: THE OXYGEN-RICH PLANET ... 1
CHAPTER 1- HISTORY OF THE EARTH ... 5
CHAPTER 2- OXYGEN ... 20
PART TWO: MAJOR ELEMENTS FOUND IN LIVING MATTER ... 37
CHAPTER 3- HYDROGEN ... 43
CHAPTER 4- CARBON ... 66
CHAPTER 5- NITROGEN ... 96
CHAPTER 6- SULPHUR ... 114
CHAPTER 7- PHOSPHORUS ... 131
PART THEE: MAJOR ELEMENTS IN THE EARTH CRUST ... 137
CHAPTER 8- SILICON ... 143
CHAPTER 9- IRON ... 151
CHAPTER 10- ALUMINIUM ... 169
CHAPTER 11- CALCIUM AND MAGNESIUM ... 176
CHAPTER 12- SODIUM AND POTASSIUM ... 184
PART FOUR: MINOR ELEMENTS ANR ENVIRONMENTAL PROBLEMS ... 193
CHAPTER 13- LEAD ... 203
CHAPTER 14- MERCURY ... 209
CHAPTER 15- ZINC AND CADMIUM ... 215
CHAPTER 16- RADON ... 222
CHAPTER 17- HAZARDOUS ORGANIC COMPOUNDS ... 229
APPENDIX- CHEMICAL COMPOUND FORMATION ... 240
GLOSSARY ... 247
INDEX ... 257
Environmental Chemistry, Second edition. 1993 - 268 pp
Peter O'Neill
This is a brief introduction to the chemistry of the elements, particular the mainly inorganic compounds which are involved in natural `biogeochemical´ cycles, and a discussion of the disruptions caused by humans to these cycles. Its assumes only GCSE-level chemistry.
The new edition updates much information, especially on topics such as stratospheric ozone depletion, the greenhouse effect, and the increasing importance of nitrogen and ozone in urban air pollution, In addition, two new chapters deal with radon and with potentially dangerous organic compounds, such as PCBs, PAHs, dioxins, and some pesticides.
The material is still presented element by element, retaining the rigour and brevity which characterized the first edition. Some basic chemistry has been moved to an appendix. A four-part format has been chosen to allow the grouping together of related environmental topics and the introduction to theoretical concepts. Part One brings together many essential basic geological, geochemical and chemical ideas and emphasizes the importance of oxygen to the chemistry of reactions near the Earth's surface. Its importance is evident in both biologically-mediated and inorganic reactions, systems depending upon these reaction types are discussed in Parts Two and Three. Differences and similarities between animate and inanimate systems are reviewed, and the application of general chemical concepts to apparently very different reactions is illustrated. In part Four there is a brief examination of the effects of human activities on elements that usually cycle naturally in small quantities. Also in this part, the perturbation of natural cycles by agricultural, industrial and social developments is highlighted in terms of the consequent problems of environmental management.
R$ 51,30