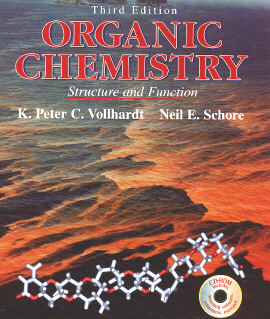 ORGANIC CHEMISTRY
Structure and Function
K. PETER C. VOLLHARDT
NEIL E. SCHORE
W.H. Freeman, 1999. 1210p.

"Real students, real world, real chemistry"--that's the vision the authors of Organic Chemistry bring to their book. Peter Vollhardt, the master researcher, provides a working chemist's viewpoint; Neil Schore, the master teacher, brings a realistic pedagogical approach that helps students grasp material and apply it to the real world. The result is the ideal text for the two semester undergraduate course.

The new edition is more accessible, more biological, and more cohesive. Throughout, features have been added or enhanced to focus on real students, the real world, and real chemistry. And the book's new "Structure and Function" theme ties the entire presentation together, offering the most coherent approach available for teaching students how to understand molecular behavior.