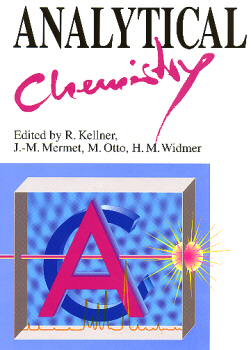 ANALYTICAL CHEMISTRY
PETER K VOLLHARDT
R. KELLNER
J.-M. MERMET, M. OTTO, H. M. WIDMER
Wiley-VCH, 1998. 916p.

Analytical Chemistry is a book with an aim: To offer chemistry students worldwide a cohesive, clearly structured overview of analytical chemistry. Modern, stimulating and completely up-to-date.

This is a book with committed supporters: Analytical Chemistry is the offspring of the Division of Analytical Chemistry (DAC) of the Federation of European Chemical Societies. Experts who care about future experts

... and with illustrious authors: Contributors of international stature and impressive background include K. Cammann (Germany), G. D. Christian (USA), P. Van Espen (Belgium), H. Friebolin (Germany), K. Fuwa (Japan), J. G. Grasselli (USA), M. Grasserbauer (Austria), D. B. Griepink (Belgium), E. A. H. Hall (U.K.), E. H. Hansen (Denmark), V. Krivan (Germany), W. E. van der Linden (The Netherlands), A. Manz (U.K.), W. M. A. Niessen (The Netherlands), L. Niinistö (Finland), D. Pérez Bendito (Spain), W. S. Sheldrick (Germany), K. Tóth (Hungary), W. Wegscheider (Austria), P. G. Zambonin (Italy). Each of these names is an endorsement of the quality and authority of Analytical Chemistry.

Richly illustrated, learning objectives precede each chapter. Numerous problems and worked examples help students develop a solid understanding of the material covered. This textbook covers everything that the aspiring analytical chemist needs to know: from sampling, quality assurance, chemical analysis, sensors, spectroscopic methods, to chemometrics and applications of total analysis systems to real problems.