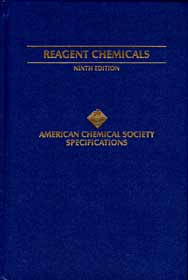 REAGENT CHEMICALS
NINTH EDITION
AMERICAN CHEMICAL SOCIETY SPECIFICATIONS
OXFORD UNIVERSITY PRESS- USA
1999, 468p.

Do your validated analytical procedures or chemical processes specify the use of American Chemical Society grade reagent chemicals? If so, you will need this ninth edition of Reagent Chemicals, containing the official January 2000 specifications. The latest edition of this indispensable reference continues in the tradition of providing detailed specifications and analytical procedures for approximately 450 laboratory reagents, while updating some of the more complicated classical procedures for trace analysis and adding instrumental methods where possible. New to Reagent Chemicals, 9th edition is the addition of standard-grade reference materials, featuring 400 specified standards in a section separate from the traditional reagent chemicals. Other important additions include reagents for use in ultra trace analysis and new analytical techniques such as plasma emission spectroscopy and "clean room" analytical procedures that are required in the use of these reagents. This rigorous volume, with its many specifications, up-to-date procedures, and constant improvement through years of research, is an essential tool in assuring the required quality of your reagent chemicals.